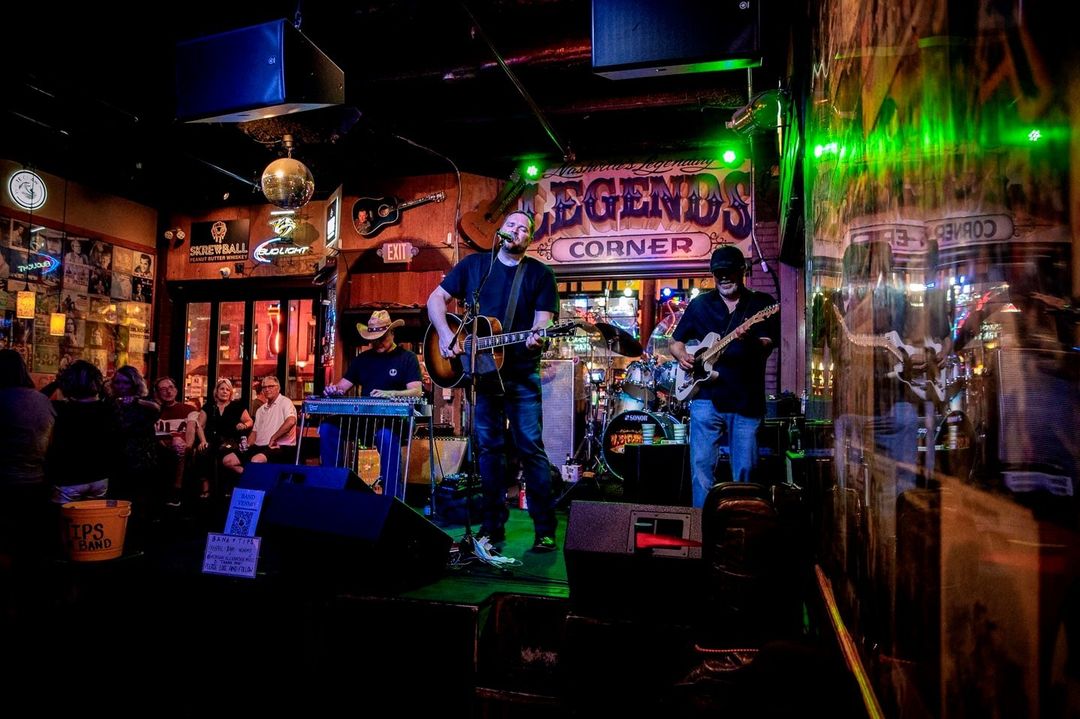 It may be true that sometimes you want to go "where everybody knows your name," but in the world of live country music, you also want to go where you can see and experience local artists with names you have never heard of too. And at Legend's Corner, that is exactly what you'll get!
As one of the best Nashville live music bars, we take great pride in having regular performances by some of Nashville's local talent as well as having new talent grace the stage. Oh, and you cannot forget that some of country music's biggest legends have also graced our stage! We have seen the likes of Darius Rucker, Kid Rock, Toby Keith, Luke Bryan, and many other country music superstars! Simply check out our live music calendar to see who's playing!
At Legends Corner, we are firm believers that live music from seasoned and new artists is the gateway to keeping up with the world and the times we live in. These artists teach us change, they force us to look at the world differently through their music, and it exposes us to potentially new "favorite" artists. By listening to the talent that comes across our stage, here are some of the benefits you will receive.
You're Immersed in a Musical Atmosphere
From the moment you set foot inside Legends Corner, you are surrounded by country music. Not only will you hear the live country music performances, but our walls are covered with country music album covers and other memorabilia of this classic genre. Our atmosphere makes you feel like you are among friends, whether you know the people around you or not, simply because everyone who visits has the same love of country music and appreciates the stories it tells.
You're Among Friends
As one of the best bars on Broadway for live country music, those who visit Legends Bar never meet a stranger. Sure, you may not know the person next to you but before you leave, you'll feel like you have known them for years. And that is the power of live music performances. For well-known artists, you can look up and see other people singing the same lyrics you know, singing right along with you. For new, up-and-coming artists, you may look around and see everyone vibing and fully engaging with the artist as much as you are.
Whether you recognize the artist or not, the live performance just brings people together for the mutual love and respect of music. Here at Legend's Corner, you may walk in with people as strangers but will certainly leave with several new friends.
You're Creating Memories
Legends Corner is not called "Legends" for no reason. We are one of the best bars in Nashville with live music! So, as you probably can imagine, we have had some of country music's legends and superstars grace our stage. We've also had these superstars grace our stage as up-and-coming artists before they achieved fame. And that's one of the coolest aspects about us, because just as we've seen it, visitors were also able to witness the greatness performing on stage and creating lasting memories they will cherish forever. 
We love giving our visitors a musical experience they will never forget. And that applies to whether you've been here before or not. Sometimes country music celebrities will be in town and just drop by and give an impromptu performance to wow the audience. Then again, imagine witnessing performances by local talent and then seeing them become musical superstars like the greats before them. That's just an experience and memory you will never forget.  
At Legends Corner, we're proud and honored that we can be part of creating long lasting memories for you. 
Live Country Music is Available to You All the Time
Here at Legends Corner, we eat, sleep, and breathe country music. If you take a look at our band schedule, you will notice that we have performances every day of the week. Live performances aren't just reserved for weekends; country music is forever, and though we aren't open 24 hours a day, we are open long enough for any country music lover to come in and get the country music experience their heart desires.
Come Experience Live Music at Legends Corner
A trip to Nashville is never complete without stopping by one of the best bars in Nashville with live music, Legends Corner! From the country music record covers that engulf the walls and expanded drink menu to the live music from seasoned and up-and-coming artists, Legends bar has truly earned its title as one of the top-rated bars on Broadway in Nashville. 
There is no need to schedule any appointments to see us, simply drop by to see us! If you want to schedule an event, just fill out our contact form. 
Also Read: